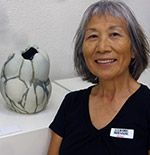 Biographical Information:
Growing up in Japan, I took up oil painting at age 12, and it was always an important part of my life. My introduction to ceramic arts was at MOA Foundation Los Angeles, where I took classes during the mid-1990's for two to three years. After decades of interruption I returned to ceramics seven years ago and studied at Pierce College with Melody Cooper. I have also taken ceramics classes at McGroarty Arts Center and Burbank Creative Art Center, as well as participated in workshops at various places.
Artist Statement:
A mountain ridge, clouds, the bark of trees, sea creatures, a rock wall, ripples on the lake, skyscrapers and Romanesque buildings – these are some of the things that intrigue me. I try to recreate my impressions of them in clay, but at thesame time being careful not simply to imitate them. I explore and experiment with form, texture and color to come up with something that is my own.
I hand-build all of my work, using techniques such as pinching, slab forming and coil building, sometimes combining all three. My pieces are fired twice, first at about 1850 degrees F, after which glazes are applied, and then fired again to 2380 degrees F, using my own gas kiln. Opening the kiln is one of the most exciting moments in my creation process. I occasionally take pieces for a raku firing at other institutions for different effects.
I plan to continue to create pieces that have an organic feel or architectural elements. It is exciting and humbling at the same time to realize that there are infinite possibilities in working with clay.
Solo Exhibitions:
♦ Jan-March 2012, Featured Artist at Consulate General of Japan Los Angeles Office, CA
Group Exhibitions:
♦ November 2013 UCLA Retirees' Association Arts and Crafts Exhibit, Los Angeles, CA
♦ October 2013 Pasadena Art Walk, Pasadena, CA
♦ August – October 2013 "From the Surreal to Steampunk" Exhibit, Galeria Gitana, San Fernando, CA
♦ August-September 2013 "Ceramic Biennial 2013" Exhibit, American Museum of Ceramic Art, Pomona, CA
♦ August 2013 California Japanese Ceramic Arts Guild Nisei Week Ceramics Exhibit, Los Angeles, CA
♦ January-March 2013 Clay & Glass National Juried Exhibition, City of Brea Art Gallery, Brea, CA
♦ November 2012 UCLA Retirees' Association Arts and Crafts Exhibit, Los Angeles, CA
♦ October 2012 Pasadena Art Walk, Pasadena, CA
♦ August 2012 California Japanese Ceramic Arts Guild Nisei Week Ceramics Exhibit, Los Angeles, CA
♦ April-June 2012 "Asian Influence in Art" Exhibition, Galeria Gitana, San Fernando, CA
♦ March 2012 American Ceramic Society–Design Chapter Presidents Show at Burbank Creative Arts Center Gallery, Burbank,CA
♦ November 2011 Featured Artist at UCLA Retirees' Association Arts and Crafts Exhibit, Los Angeles, CA
♦ October 2011 Pasadena Art Walk, Pasadena, CA
♦ August 2011 California Japanese Ceramic Arts Guild Nisei Week Ceramics Exhibit, Los Angeles, CA
♦ July 2011 "Ceramic Biennial 2011" Exhibit, American Museum of Ceramic Arts, Pomona, CA
♦ April 2009 California Conference for the Advancement of Ceramic Arts, Davis, CA
♦ April 2008 California Conference for the Advancement of Ceramic Arts, Davis, CA
Awards & Honors:
♦ Second Place in the Pasadena Contest, Pasadena Art Walk, October 2013
♦ President's Choice Award at American Ceramic Society Design Chapter of Southern California, March 2012
Affiliations:
♦ American Ceramic Society Design Chapter of Southern California
♦ California Japanese Ceramic Arts Guild
♦ Pasadena Society of Artists
Education
MA in Folklore and Mythology, UCLA