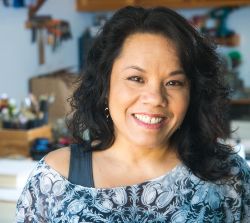 Biographical Information:
Lisa is a professional Mixed Media Artist and Instructor. Her work has been shown in both solo and group exhibits throughout Los Angeles and New Mexico. Lisa's work has been published in Incite, Dreams Realized: The Best of Mixed Media and Incite 3: The Art of Storytelling (North Light Books). She has a BFA from Art Center College of Design in Pasadena and a Masters in Psychology. Prior to her art career she worked as a Therapist, Creativity Coach and Graphic Designer. Lisa also taught one of the core certification courses at the Creativity Coaching Association where she also trained under renown Creativity Coach, Eric Maisel. Lisa continues to produce original mixed media artwork that blends her own photography, various techniques and found objects. She strives to create work that invites the viewer to experience the depth, meaning and process of each piece. Lisa also teaches a variety of Mixed Media workshops and leads an annual Mixed Media Retreat "Awaken Your True Creativity" in Cambria, California.
Artist Statement:
"If an object or expression can bring about, within us, a sense of serene melancholy and a spiritual longing, then that object could be said to be wabi-sabi." – Andrew Juniper, Wabi Sabi: The Japanese Art of Impermanence

I've always been fascinated by the sense of aging revealed in textures found in natural stones and weathered surfaces, similar to the Wabi Sabi philosophy that beauty is found in imperfection. I strive to recreate an unrefined quality in my pieces, through the processes of layering and adding or subtracting from the surface. By limiting my color palette, my pieces often capture a serene and calming feel.
My process is spontaneous and intuitive, allowing the unexpected to unfold and creative magic to happen. I blend different acrylic applications, original photography, collage, fabrics & textiles and found objects. I channel my creative intuition, transforming it onto the surface, allowing each piece to dictate the direction it wants to go. Forms, themes and textures organically emerge, guiding the next step in the process and so on. I find this mindful path an opportunity to surrender to the moment, without a predetermined plan. Although struggle, frustration and self-doubt can be a common stage in the creative process, I've learned to trust that I will fall in love with the piece that once challenged me. When I remain open, this dance seems to always lead to surprising results and creative alchemy.
Solo Exhibitions:
2015 "Collective Body of Work 2012-2015," Solo Exhibit, ArtCrush Studio, Altadena, CA
2014 Solo exhibit, Zilin Restaurant, Pasadena, CA
2013 "Wanderlust Sutra," New Body of Work, Gallery 39,  Sierra Madre, CA
2013 "Dreams & The Lotus," Solo Exhibit, 8th Day Arts, Glendale, CA
2013 "Elusive Reflections," Solo Exhibit, Center for Wellbeing, Sierra Madre, CA
Group Exhibitions:
2018 Annual Art Show, Creative Arts Group, Sierra Madre, CA
2018 Faculty Show, Creative Arts Group, Sierra Madre, CA
2017 Annual Art Festival, Creative Arts Group, Sierra Madre, CA
2017 Art in Bloom, Creative Arts Group, Sierra Madre, CA
2017 Faculty Show, Creative Arts Group, Sierra Madre, CA
2016 Annual Art Festival, Creative Arts Group, Sierra Madre, CA
2016 Pasadena Art Show, Group Exhibit, Laemmele Theatre, Pasadena, CA
2016 Faculty Show, Creative Arts Group, Sierra Madre, CA
2015 "10 24 15 Art Only" Group Show, Gibson Gallery, Santa Monica, CA
2015 Grand Opening Group Show, ArtCrush Studio, Altadena, CA
2014 "Liquid Dreams," Group Show Studio FIVE08, Santa Monica, CA
2014 "Mysterious Flight and Other Beautiful Tales," Group Show,  Studio FIVE08, Santa Monica, CA
2014 Group Showing, SOPA Studios Art Collective, ArtsCrawl, South Pasadena, CA
2013 Artists of FIVE08, Group Show, Studio FIVE08, Santa Monica, CA
2013 "Seeing Buddha", Studio FIVE08, Santa Monica, CA
2013 Group Exhibit, SOPA Studios Art Collective, Arts Crawl, South Pasadena, CA
2013 Featured Artist, Hotel Andaluz Mezzanine, Albuquerque, NM
Awards & Honors:
2015 Incite 3: The Best of Mixed-Media, The Art of Storytelling, North Light Books
2014 Winner of Flora Online Exhibit, Linus Galleries, Pasadena & Long Beach, CA
2013 Special Merit Award, 3rd Annual Botanical Exhibition 2013, Light, Space & Time Online Gallery
2013 All Women Art Exhibit, Light Space & Time Gallery Honorable Mention Winner for Mixed Media Category
2012 Incite: The Best of Mixed-Media Dreams Realized, Winner (publication released September 2013)
Affiliations: Creative Arts Group, Sierra Madre
Education:
M.A., Psychology Phillips Graduate Institute, Encino, CA 2001-2003
B.F.A., Art Center College of Design Pasadena, CA 1986-89