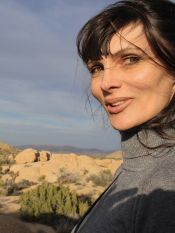 Biographical Information:
Andrea Abonyi was born in Budapest, Hungary. She migrated to the United States in 2014 and she lives in Pasadena, California. For more then five years now she has been experimenting with digital imaging. With her photography interest she started to create narratives. Andrea studied photography and art at Pasadena City College and at the Art Center College of Design in Pasadena. She studied under renowned artist Jim Morphesis and Christopher O'Leary. Andrea has a passion for digital photo editing and photography that she combines in her imagery. The digital tools give her more freedom to develop the style that she wants for her compositions. Her themes are about human behaviours and sometimes ordinary lives that she likes to filter with humor.
Artist Statement:
Creating narrative images with my photography came naturally for me. At the beginning I didn't think about why I chose this kind of imagery. After I developed more and more ideas,- I realized these portrayals come from my childhood growing up (in Hungry) on Hungarian folk tales.
The Hungarian folk tales talk in symbols/hidden symbols. Every character and image has a meaning and at the same time has another meaning too. I realized I started to develop my images in a similar way.
I love to create a story in one frame with one or two characters, build up the set and chose objects with different environmental sources to give more meaning/hidden symbols to the theme. I like to add a kitchy critical pinch and tint with humor as well.
I use a digital camera to capture moments and elements from nature for my background. I photograph the models and other objects in the studio in front of my green backdrop material separately by adjusting the light to get the best harmony for my captured background set. Sometimes I use a glitch (digital) technique to extend the content and build up the background like a stage.
Working with these sets like a stylist I get to play with styles for  backgrounds choosing costumes for models and arranging objects, meanwhile I photograph everything  under similar light situations. My last step is to arrange every piece together for the final composition and achieve a seamless match. To get this I work in photoshop layers.
Working with digital tools give me more freedom to develop my narrative themes.