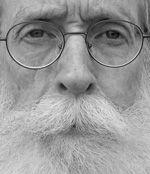 Biographical Information:
S.A. Smith was born in Japan on an airbase west of Tokyo. His family moved to the Pasadena/Altadena area when he was a year old. It was obvious at an early age Smith would have an interest in the arts, which his family nurtured by providing him with art supplies to keep him quietly occupied as a child-- a tradition his family continues to this day.
Smith was a student at Occidental College where his interest in world cultures was developed and refined and became a major influence upon his subject matter. Smith works with many mediums, including airbrushed and hand-brushed acrylics, and traditional assemblage, on both formed panels and paper supports.
Artist Statement:
I have always been one to play philosophical mind games following my grandmother's influence. I create symbols which represent universal ideas. After I develop usable symbols, the game continues as a design exercise. Another connected theme is that of overcoming barriers. The visual image presents these themes to the viewer, asking the person to provide personal experience to complete the presentation.
This continent is the mixing bowl of societies from around the world, which makes the culture of the Western Hemisphere so rich. I had the good fortune to enjoy a liberal arts education at Occidental College, which provided me with an excellent base in history and in anthropology--interests which impacted my work early on. As an art major, three department teachers were critical to my development: Robert Hansen, artist, Richard Betts, renaissance historian, and Connie Perkins, historian. They guided my early development, and their influence is still recognizable today.
I work on a small scale; I like the intimacy it affords. The panel works have a direct relation to theater sets, which I produced a number of years ago. The paper works display the witness marks of their preparation: pin holes, tears, etc. The layering I employ gives a palimpsest of time and age. I combine airbrush and hand-brush techniques with water- based media: inks and acrylic paint, along with dry media, colored pencil, pencil and leafing. By combining the structure of airbrush with the randomness of brush painting, I am allowed a certain amount of controlled chaos, not unlike life.
Solo Exhibitions:
2004 Borders, Pasadena, CA
2003 "Wall Works," Clapp Library, Occidental College, Los Angeles, CA
2001 "Wall Works," Garland Theater, Polytechnic School, Pasadena, CA
1999 Solo Exhibition, Clapp Library, Occidental College, Los Angeles, CA
1994 Solo Exhibition, Garland Theater, Polytechnic School, Pasadena, CA
1993 Solo Exhibition, Clapp Library, Occidental College, Los Angeles, CA
1989 Solo Exhibition, Riverside Art Museum, Riverside, CA
1984 Solo Exhibition, Clapp Library, Occidental College, Los Angeles, CA
Group Exhibitions:
2009 Gallery at the End of the World, Altadena, CA
2009 Long Beach Art Association, Long Beach, CA
2007 "Mixed Points of View," Ventura College, Ventura, CA
1997 "Laguna Art Museum Heritage Exhibition," Laguna Museum of Art, Laguna, CA
1997 "One-to-Three Makes Twenty-nine," First Street Gallery and Art Center, Claremont, CA
1996 "Staff Selects," First Street Gallery and Art Center, Claremont, CA
1996 "Art of the Deal," Da Gallery, Pomona, CA
1995 "Staff Selects," First Street Gallery and Art Center, Claremont, CA
1994 "Staff Selects," First Street Gallery and Art Center, Claremont, CA
1993 "Staff Selects," First Street Gallery and Art Center, Claremont, CA
1992 "Fringe of the Fringe," Da Gallery, Pomona, CA
1992 "Staff Exhibition," First Street Gallery and Art Center, Claremont, CA
1991 "Poetic Pursuits," Glendale Community College, Glendale, CA
1991 Exhibition, Brea Civic Center Gallery, Brea, CA
1990 "Surrealism," FHP Gallery, Long Beach, CA
1988 "Emerging Artists," Riverside, CA
1987 "Artist Liaison," Gallerie Imago, San Francisco, CA
1987 "Art of Celebration 100 Years," Occidental College, Los Angeles, CA
1986 "Small Images, 1986," Laguna Museum of Art, Laguna, CA
1986 "Images 86," Bowers Museum of Art, Santa Ana, CA
1986 "20th Annual All Media Exhibition," Brea Civic Center, Brea, CA
Affiliations:
Pasadena Society of Artists
Education
1972 AB Occidental College, Studio Art
1973 California State College at Los Angeles, Teaching Credentials