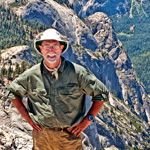 Biographical Information:
Since birth, Robert Kutner has been a part of the greater Los Angeles area. His lifelong penchant for drawing led him to a career as an Architect. During his architectural studies he spent considerable time studying and developing his nascent photographic skills. As time progressed, Robert continued to hone his photographic talents eventually realizing that photography was his preferred medium for expressing his artistic voice. The natural world is Robert's favored source for photographic subjects, with architectural subjects also providing a rich source for capturing the play of light on form.
Artist Statement:
I love to see, to gather in the world around me, the textures and patterns in the play of light or the movement of water, the natural order and the chaos. My cameras are my companions, they allow me to collect visual slices of the world I see and feel around me.
Through the processing of these visual slices I reconnect with the moment of capture and what drew me to frame the particular slice, at that particular point in time. I draw forth the textures, forms, and patterns…..to develop an image expressive of the objects within the frame at that time and place.
From the initial framing of the image, through the processing, and on to the printing of the image I seek to bring forth a distinctive graphical representation of what I saw before placing my eye to the camera. Where the graphical expression of the scene is best represented in color, I work to maximize the mood and feel of the image expressed in its color. And, I have found that a striking and visually complex image can be achieved with only a few distinct colors. With other images, I can only find my way to actualizing their graphical expression through black and white processing.
Whether working in color or black and white I strive to draw upon the details and selective framing of the scene to lure the viewer into the image. An image that will instill in others a sense of the unique opportunity I had to experience the world at that singular point in time.
Group Exhibitions:
Sharing Space IV – Lankershim Art Gallery, June 2003
Gallery 5350, November-December 2004
86th Annual Exhibition – Pasadena Society of Artists, March 2011; Honorable Mention for Sunflower Setting
Points of View - Pasadena Society of Artists, Pasadena Library Exhibition, May 2011
Publications
Article – Robert I Kutner, Photography – Melrose Heights Magazine, Issue No. 10, September 2009
Affiliations:
Pasadena Society of Artists
Education
Bachelor of Architecture, California Polytechnic State University at San Luis Obispo
BA Economics, UCLA