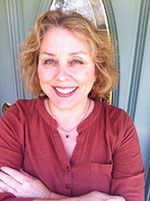 Biographical Information:
Chuka "Susan" Chesney started drawing and painting as a small child. She graduated from Art Center College of Design and then stopped painting for many years. Susan and her husband owned a printing and graphics business for fourteen years. There were opportunities in the business for Susan to continue to work in the field of design.
Susan and her family moved to Colorado when she was around 45. While she was in Colorado, Susan began to paint again and displayed her work at a church gallery in the city of Colorado Springs. The family returned to the Pasadena area a couple of years later. Susan started working with collage and made many pieces of art.
In the past couple of years, Susan began painting with watercolors – one of her first loves – and has created approximately fifty paintings since then. Sometimes Susan creates narrative paintings that are of ten 18" x 24" and tells stories about intriguing characters that stand before complicated backgrounds filled with dots, swirls, and dashes of colourful paint. In the past several months, Susan has been painting outdoors and has amassed a collection of free-spirited plein air paintings. Susan plein air paintings are usually around 11" x 15".
Susan hopes to become freer as she paints and to use more and more large and spirited brush strokes. She loves to try different kinds of watercolor paper, both rough and smooth as she experiments with paint. Unlike some watercolorists, Susan enjoys adding black ink and white watercolor paint to her creations. She smears pastel pencil over the paint, sometimes rubbing the pastel into the paint with her finger. She loves to glue rice paper over her paint with matte medium and sometimes adds pastel over the top of the rice paper. Susan likes to add many layers of medium over her paintings to make many layers of texture.
Artist Statement:
When Chuka "Susan" Chesney started painting again, she wasn't sure what she was going to create. She just knew it was important to get started. She copied some of her favorite artists' work such as Bonnard, Matisse, and Lautrec. Then she copied some artists she had never heard of – German Expressionists such as August Macke and Franz Marc. She learned a great deal about color, design, and composition from copying so many artists' work. She started creating her own work.
Susan has been inspired by folk artists, outsider artists, and by some of the many books in her own library and at her local public library. She enjoys taking parts of photographs and combining them together to tell fictional stories and create scenarios. She enjoys painting Jesus and multiple angels doing fun things such as surfing, going to the beauty parlor, playing guitars, hovering over the city, cruising down city streets in old battered cars, and so on. She has painted the circus, Sarajevo survivors, girls reading on a sofa, and eerie, personal images of her family of origin.
Recently Susan began to paint outdoors in order to see how that would affect her painting style in the studio. She has found that she is learning a great deal about tone. Being outside is forcing her to learn to create light and shadow. Susan enjoys keeping the light-filled areas of her painting simple and then adding intensely dappled and dotted patterns to the dark areas. She came upon this idea when she was thinking about four-color process printing and the way dots of cyan, yellow, magenta, and black are used to create tone on printing presses. This dot process reminds her of her printing business which was in her family for many years.
Solo Exhibitions:
ArtDance, New City Gallery, L.A. ArtWalk Spring 2010
Dots One Person Show, Griffith Park Adult Community Center, Winter 2014
Group Exhibitions:
Glendale Art Association Fall Salon, White's Gallery, Montrose 2012
Verdugo Hills Art Association Fall Show, La Canada Public Library, 2012
Glendale Art Association Spring Show, 2013
Verdugo Hills Art Association Spring Show, La Canada Public Library, 2013
Spectrum Show, Silver Lake Art Collective Fall Show, Keystone Gallery, 2013
Open Show, Pasadena Society of Artsits, Keystone Gallery, 2013
Small Works Show, Segal Gallery, Winter 2013
Open Show, Los Angeles Art Association, Gallery 825, Winter 2013
Glendale Art Association Winter Salon, Eagle Rock 2013
Portraits of the Gardens, Descanso Gardens Salon Show, Sturt Haaga Gallery, Winter 2014
Awards & Honors:
Best of Show – Verdugo Hills Art Association Show, Spring 2013
First Prize – Verdugo Hills Art Association Show, Spring 2013
Second Prize – Verdugo Hills Art Association Show, Spring 2013
First Prize – Verdugo Hills Art Association Show, Fall 2012
Honorable Mention – Verdugo Hills Art Association Show Fall 2012
Collections:
Aarnun Gallery
Affiliations:
Pasadena Society of Artists
Silver Lake Art Collective
Education
BFA '83 Art Center College of Design
MAT '90 Occidental College