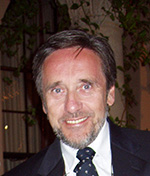 Biographical Information:
Born and raised in Vienna, Austria, Hans Zima has been interested in and practicing photography since his childhood. His professional career in computer science took him across the world, resulting in countless opportunities for recording fascinating landscapes, buildings, and people all over the globe. Hans has been living in Southern California for the past 15 years, enjoying the climate, scenery, and people in this region of the world. Since retiring from his scientific position more than two years ago he has pursued a professional status in photography, cooperating with many artists in the area and beyond, and taking part in many gallery exhibits across the region.
Artist Statement:
I have loved and practiced photography throughout my life. Since retiring from a professional career in science a few years ago I finally found the time and opportunity to pursue the creation of photographic art on a professional level. I love nature -- so one primary focus of my work is to provide an aesthetic view of it -- from the mountains to the desert to the sea. Another focus is on human interest -- showing people in interactive, emotional, or unusual situations. In addition to finding it deeply satisfying to create images that reflect precious and exciting moments in my life I try to convey my perception to others and share my personal impressions with them.
Many of the themes selected by me are related to travels across the world. I love the thrilling views offered by the California desert and coastline, or by the Austrian and New Zealand Alpine regions. A stroll through a city like London, Hongkong, or a village in the hills above the Cote d'Azur provides countless opportunities to watch people of all ways of life. My gear, which includes a Nikon D800E camera with a set of powerful lenses provides me with the chance to take photographs in almost any environment and light condition.
My short-term plans for future work focus on the California landscape, in particular on the glorious light that winter produces in places like Death Valley or the Anza Borrego Desert, and on the dramatic changes in scenery once flowers erupt on the desert floor after a rain. Taking into account past experiences I plan experiments in difficult lighting conditions, in particular at sunrise and sunset. A new project for the medium term is to explore and photographically document wildlife during a safari in one of the South African National Parks.
A membership in the PSA would be an important next step for me to improve my professional stature in photography and provide me with an opportunity to exhibit my work and to volunteer at arts events.