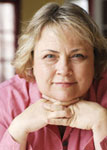 Biographical Information:
As an artist, actor, and writer I have found an unwavering home within this triad of art forms, and delight in the effect each has on the other. What I draw or paint, write or recite, exists inside of me, as does my heart, lungs, and soul.
As a child I did not read very well, and sought isolation from life around me. I discovered that drawing was a way for me to express myself. An advertisement on the bus led me to The Art Institute of Chicago.
I studied at the SAIC Young Artists League, Chicago State University, and the Art Institute's MFA program. This intensive study provided me with days, weeks, and years to find my voice as an artist. Time fell short. I longed for something…more.
I struggled with the delicate connection between artist and viewer. At times the viewer felt intrusive. Disoriented in my practice, I continued to paint. While at the Art Institute, I spent countless afternoons captivated by the productions at The Goodman Theatre. I found the "stage" to be a different kind of canvas, with the writer's words held as a paintbrush, dipped in the colors the actor provides. I sat quiet, yet my internal reactive state inspired me. Momentarily I stopped painting, and began to act and write until my voice blossomed. Through this new form of expression, I awakened internally the breath and blood of my artistic passion, the fundamental impulse of creativity—and my return to painting.
Artist Statement:
Calculation and expression continually guide my artistic practice. Allowing these contradictions to run parallel to each other has qualified my work in one way or another since I first became an artist.
My early work consisted of drawings followed by paintings that involved creating patterns based on rotating primary and composite numbers. I drew graphs, wrote number rotations, and assigned marks and color to those numbers creating a visual relationship between color and space. My allegiance to this process created a celebrated visual chaos.
I continue to employ common objects to reveal the complexity and rhythm of a given space. Beginning with a layered foundation, I expose a fortuitous "color-scape" spanning between joy and rage.
Next, lyricism, attraction and calculation guide the placement of similar entities. Altered relationships develop between space, color, and texture, forming new entities that journey as an erratic, yet fluid embodiment of what keeps alive that which is inside of me.
Awakened by its' first breath as nonhuman, a "square" guised with the attributes of a personal nature, provoke an emotional reaction. The magnificent nightmare inhabiting the soul directs that reaction to the human quality of the abstract form.
Color, textures, attributes, emotions…once released these qualities, integrate beyond the moment of understanding and remain erect on an unencumbered field of crossed fibers. When all the paint and medium is dry I love to rub my hand across the canvas.
Solo Exhibitions:
Wilson Communications Gallery : Chicago, IL
Chicago State University Gallery : Chicago, IL
Group Exhibitions:
Coit Gallery : Sandpoint, ID
Stage Left Studio : New York, NY
Third Street Gallery : Half Moon Bay, CA
Corey, Edmonds, MacMillan : New York, NY
Traction Gallery : Los Angeles, CA
LAICA : Los Angeles Institute of Contemporary Art
Newport Harbor Art Museum : Newport Harbor, CA
Chicago Collective : Chicago, IL
The Art Institute of Chicago (Fellowship Exhibition) : Chicago, IL
Wilson Communications Gallery : Chicago, IL
Cook County Hospital : Chicago, IL
Chicago State University Gallery : Chicago, IL
Awards & Honors:
Fellowship Exhibition, Art Institute of Chicago
Collections:
Gail Blasingame, Sandpoint, ID
Jean-Louis Rodrigue, Los Angeles, CA
C.A. King, New York, NY
Frank Dahl-Kemper, Chicago, Illinois
Affiliations:
Pasadena Society of Artists
Education
The School Of The Art Institute Of Chicago : Master of Fine Arts in Drawing and Painting
Chicago State University : Bachelors Degree in Art