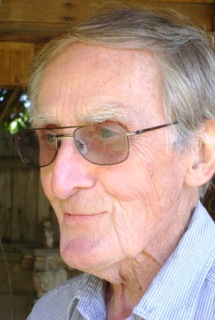 Biographical Information:
Peter McDonald was born in Australia where an obsession for writing and creating school newspapers led to a career in journalism. He has written for major publications in Australia, Britain and the United States. He came to Los Angeles from London in 1966 for an Australian publishing group and on a whim took a watercolor class that profoundly changed his life. "It was love at first brush stroke," he says. "For me watercolor has all the same subtlety and power of the written word." He began his development as an artist with the late Dr. Alex Vilumsons, the award winning abstract-impressionist, and today his abstract art, distinquished by detailed line work, has been seen in many shows and won numerous awards.
Artist Statement:
A mentor once called me an "emotional" painter and I won't argue with that. For me, life is a wonderful abstraction of elusive beauty, mystery and spiritual transformation that I feel compelled to explore and express as an artist. Everything from rain on windshield to a personal crisis has inspired me. My roots are in watercolor and I start by putting down a random pours of color and continue working until my intution "clicks" on a symbol or theme. But these pours are only a base for what I believe defines my work. Line is my passion and it is transformational in creating texture and meaning.
Solo Exhibitions:
2010 Emerging Artist Series (Coffee Gallery, Altadena, CA)
2008 Blood, Sweat & Tears (Finns, Westlake, CA)
Group Exhibitions:
2014 No Boundaries (San Fernando Valley Arts Center)
2014 Abstract (Sexton-Cater Gallery, North Hollywood, CA)
2014 VWS Annual Show (Gallery 800, North Hollywood, CA)
2013 PSA 88Th. Annual Juried Exhibition (da Center for The Arts, Pomona, CA)
2012 PSA 87th. Annual Juried Exhibition (Creative Arts Center, Burbank, CA)
2011 PSA New Members Show (Towns-Burr Gallery, Burbank, CA)
2009 NWS Members Exhibition, (NWS Gallery, San Pedro, CA)
2009 NWS Watercolor Showcase (San Francisco State University, CA)
Awards & Honors:
2014 Special Honor, Valley Watercolor Society Annual Show
2013 Special Honor, Valley Watercolor Society Annual Show
2012 McBride Landscape Award, PSA Annual Exhibition
2011 First Place, Thousand Oaks Art Association Show
2009 Frode Dan Award, National Watercolor Society Show
2009 Top Honor, Valley Watercolor Society Annual Show
Affiliations:
National Watercolor Society
Pasadena Society of Artists
Valley Watercolor Society
Education
Major influences have been Dr. Alex Vilumsons, Fealing Lin (NWS), Tom Fong and Terri Balady.