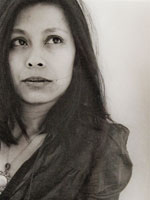 Biographical Information:
Born in the province of Pampanga, Philippines, Jaydee Dizon is currently residing in Alhambra, California. Ms. Dizon graduated with a Fine Arts degree in Art Photography at California State University of Long Beach in 2004. Jaydee is known for her darkroom skills and printing silver gelatin photographs. In order to establish a relationship with her concepts, she explores other mediums and creates installations to express her ideas. Her artworks are viewed as cause-oriented events. Visualization is a fundamental part of her art projects as it aids in the lost history in which we presently have ignored or forgotten.
Capturing in black and white film is the medium she favors as it contains a certain quality in documenting solemn and desolate places she encounters.
Her photographs were featured in a variety of local art galleries and selected/juried exhibitions, including, City of Brea Art Gallery, Towns Burr Gallery, Creative Arts Center Gallery, City Hall Art Gallery of Alhambra, Los Angeles Municipal Art Gallery, Arena 1 Gallery, Raven Studios, and the Irvine Fine Arts Center.
In Ms. Dizon's spare time she assists in promoting emerging and established artists at Gallery 207, a non-profit Artist Cooperative Gallery located in the heart of the artist village in downtown Santa Ana.
Artist Statement:
Land.
California is a place I have never thought would have vast pieces of empty space that collects past history.
I chose black and white photography as a medium to express the solemn, desolate places that I have explored in small towns and cities. It is a method in recording the past.
My first series of photographs in San Bernardino County started when I came across several campgrounds in Yucaipa. I had no idea at the time why trees, mountains, or the ground beneath me would have any importance. It took me several days to think of other towns that may have historical or cultural significance.
Therefore, I came across photographing the second largest county in California, Inyo County.
A new idea came to mind, and I decided to research for the relocation camps that I read upon, Fairwell to Manzanar by Jeanne W. Houston. Finally, I knew that my meaning to reveal the past has finally made me feel complete.
I am to this day creating my photographs of California's small towns that intrigues or peaks my interest and compels me to continue in black and white.
Solo Exhibitions:
2011
A Solo Exhibition of Jaydee Dizon, City Hall Art Gallery, Alhambra, CA, October
2011
Let's Play, Coffee Bean & Tea Leaf, Long Beach, CA, June 2011
2008
Let's Play, The Westin, Long Beach, CA, July 2008
Selected Group Exhibitions:
2012
Latrines, Prison Walls, PSA New Members Exhibit, Towns Burr Gallery, Burbank, CA March 2012
Mast of Colours, Fremont & Orange, IAAC Artwalk, Cedars-Sinai Medical Center, Los Angeles, CA February 2012
Alhambra in September, Gallery 207 / Raven Studios, Santa Ana, CA January 2012
2011
Five Senses Project, Gallery 207 / Raven Studios, Santa Ana, CA December 2011
Good and Evil, Arena 1 Gallery, Santa Monica, CA September 2011
Engaging in their Legacy, Raven Studios, Santa Ana, CA August 2011
Freedom is not Free, Los Angeles Municipal Art Gallery, Los Angeles, CA July 2011
California Landscapes, Raven Studios, Santa Ana, CA, April 2011
2010
California Landscapes, Coffee Bean & Tea Leaf, Long Beach, CA, May 2010
2005
Shopping for a Landscape, Quality Collective Art Show, Los Angeles, CA, March 2005
2004
Wall Art, All Medium Art Show, Alternative Znon Gallery, City of Industry, CA, January 2004
B.F.A. Art Show, Gatov Gallery, Long Beach, CA, October 2004
Juried Exhibitions:
2012 Between Grand & Main, Prison Walls, Made in California Juried Exhibition, City of Brea Art Gallery, Brea, CA, March 2012
Camp Tule Lake, PSA 87th Annual Juried Exhibition, Creative Arts Center Gallery, Burbank, CA February 2012
2008 Livermore, Emergence, My Butterfly Art Events, Long Beach, CA, November 2008
2007 Manzanar, Photo Series 2007, Irvine Fine Arts Center, Irvine, CA June 2007
Selected Publications:
2002 Desert Sierra Advances, American Cancer Society Relay for Life
2001 Photographer's Forum Magazine, Serbin Communications, Best of College
Photography Annual
Internships/Volunteer Experiences:
2011 – present Artist Resident at Gallery 207 / Raven Studios, Santa Ana, CA
2010 – present Photography Tech Volunteer, Irvine Fine Arts Center, Irvine, CA
2008 Architectural Photographer, JBI, Long Beach, CA
2005 Juror/Art Gallery Director, Znon Gallery, City of Industry, CA
Still Photographer, "For Them," Norwalk, CA
2003 Documentary Photographer, Garden of Angels, Yucaipa, CA
2002 Event Photographer, American Cancer Society Relay for Life, Claremont, CA
Affiliations:
Pasadena Society of Artists
Education
2004 B.F.A. California State University of Long Beach, Art Photography
2000 Long Beach City College, Associate of Arts