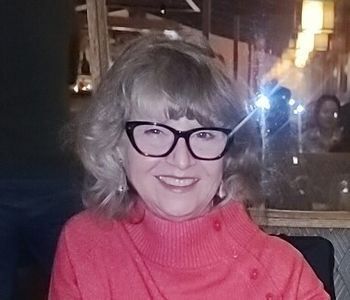 Biographical Information:
Kathleen Swaydan was born in Los Angeles, raised in South Pasadena and resides in Altadena, CA. Her interest in drawing and painting started at an early age and was influenced by her grandmother, a talented, self-taught painter. In 1994 Kathleen returned to school to study fine art and art history and earned two Bachelor of Arts degrees one in Fine Art with an emphasis in painting and drawing, the other in Art History both from the University of Southern California. She also earned a Master of Arts degree in Italian Renaissance Art History from Syracuse University, New York. Since completing her MA in 2003, she has focused on making art.
Affiliations: She is a member of the California Art Club, College Arts Association, Pasadena Society of Artists , and Verdugo Hills Art Association. Exhibits: Her artwork has been in solo exhibits at MorYork Gallery, Highland Park, CA, and the Jamison Gallery, Sierra Madre, CA and in group exhibits at The Brand Library, Glendale, CA, McGinty Gallery at the End of the World, Altadena, CA, Jamison Gallery, Sierra Madre, CA, Towns-Burr Gallery, Burbank, CA, Segil Fine Art Gallery, Monrovia, CA, Saga Fine Art Gallery, Monrovia, CA and Silver Grain Gallery at the Skagit Annual Tulip Festival, Mt. Vernon, WA. In addition she participates in a variety of local art fairs including Art On Palm at Loma Alta Park, Altadena, CA, Creative Arts Group Fall Art Festival, Sierra Madre, CA, Sierra Madre Annual Art Fair, Sierra Madre, CA , Sierra Madre Annual Wisteria Festival, and her own Annual Open Studio and Artist's Marketplace in Altadena, CA. Kathleen published a monthly newsletter, View From the Edge, which highlights exhibits at Southern California based museums
Artist Statement:
A longstanding appreciation of Renaissance and Baroque art has influenced my study and creation of art. In support of this appreciation I spent a year of study in Florence, Italy while enrolled in a Master of Arts Program at Syracuse University. My initial focus was on the still-life genre not only because of its long history, but also because it provided an unlimited supply of subject matter that could be "set-up" and drawn to tell a story.
My still-life compositions combine a variety of organic and non-organic objects , most of which contain a vessel or container the contents of which span the cycle of life. Most of these compositions have been executed in graphite on paper. The tactile quality of graphite allowed me to build on the nuances of each surface represented by the objects that comprise my compositions. The transition to watercolor and pastel and a recent return to oil paint, not only allows me to continue "drawing", but also to incorporate color and ever changing vistas; vistas not unlike the variety presented in still-life compositions.
My art, whether watercolor, pastel, oil or graphite, is influenced by the ancient Greek and Roman tradition of landscape and still life paintings frequently found on the walls of guest quarters in private domiciles such as those found in Pompeii. These images provided a private devotional area and visual banquet for the guests and evoked an impression of hospitality and generosity. This ancient tradition is the undertone of my artwork.
Solo Exhibitions:
Oct. 2010 MorYork Gallery, Los Angeles, CA
July 2010 The Coffee Gallery, Altadena, CA
Jan. 2006 Theosophical Society Library Gallery, Altadena, CA
Group Exhibitions:
2019: Alta/Pasa/Dena Open Studio Tour, Altadena, CA
Art On Palm at Loma Alta Park, Altadena, CA
Convergence, Pasadena Society of Artists at The Neutra Gallery, Los Angeles, CA
Pasadena Society of Artists 94th Annual Exhibit at The Betsy Lueke Art Center, Burbank, CA
2018: Art Fair in the Garden - Pasadena Society of Artists/Storrier-Stearns Japanese Garden, Pasadena, CA
Art On Palm at Arlington Garden and Jones Coffee Roasters, Pasadena, CA
Creative Arts Group Art in the Garden and Annual Fall Art Festival, Sierra Madre, CA
Locals Only - McGinty's GATEOW, Altadena, CA
By Hand - Pasadena Society of Artists at McGinty's GATEOW, Altadena, CA
Sierra Madre Annual Art Festival, Sierra Madre, CA
Silver Grain Gallery at the Skagit Annual Tulip Festival, Mt. Vernon, WA
2017: Art On Palm at Arlington Garden, Pasadena, CA
Creative Arts Group Annual Fall Art Festival, Sierra Madre, CA
Razzamatazz, Saga Fine Arts Gallery, Monrovia, CA
2016: Art On Palm at Arlington Garden, Pasadena, CA
Creative Arts Group Annual Fall Art Festival, Sierra Madre, CA
Lucky 13 - McGinty's GATEOW, Altadena, CA
Pasadena Society of Artists, 91th Annual Exhibit at SFV Arts & Cultural Center, Tarzana, CA
Razzle Dazzle and Saturnalia - Saga Fine Arts Gallery, Monrovia, CA
Sierra Madre Annual Art Festival, Sierra Madre, CA
2015: Art On Palm at Arlington Garden, Pasadena CA
I-5 Gallery at The Brewery, Los Angeles, CA
Creative Arts Group Annual Fall Art Festival, Sierra Madre, CA
2014: Art Etcetera at The Shakespeare Club, Pasadena, CA
Art On Millionaires Row at the Altadena Public Library, Altadena, CA
Art On Palm, Altadena, CA
Creative Arts Group Art in the Garden and Annual Fall Art Festival, Sierra Madre, CA
Pasadena Jewish Center Art Fair, Pasadena, CA
Pasadena Society of Artists 89th Annual Exhibit at Segil Fine Art Gallery, Monrovia, CA
Summer and Small Work - Segil Fine Art Gallery, Monrovia, CA
2013: Altadena Community Art Marketplace, Altadena, CA
Art On Millionaires Row at the Altadena Public Library, Altadena, CA
Art On Palm, Altadena, CA
Creative Arts Group Annual Fall Art Festival, Sierra Madre, CA
Earth Day Art Fair - North East Trees, Los Angeles, CA
Summer and Small Works - Segil Fine Art Gallery, Monrovia, CA
2012: Art On Millionaires Row at the Altadena Public Library, Altadena, CA
Art On Palm, Altadena, CA
Creative Arts Group Annual Fall Art Festival, Sierra Madre, CA
Foothill Art Collective Art in the Garden, Glendora, CA
Grow at the Los Angeles Arboretum, Arcadia, CA
Pasadena Jewish Center Art Fair, Pasadena CA
Summer and Small Works - Segil Fine Art Gallery, Monrovia, CA
2011: Art On Millionaires Row at the Altadena Public Library, Altadena, CA
Art On Palm, Altadena, CA
Creative Arts Group Annual Fall Art Festival, Sierra Madre, CA
Farnsworth Park Art Fair, Altadena, CA
Foothill Art Collective Art in the Garden, Glendora, CA
Pasadena Society of Artists 86th Annual Exhibit at Citibank Art Space, Los Angeles, CA
Small Works - Townes-Burr Gallery, Burbank, CA
2010: Art On Millionaires Row at the Altadena Public Library, Altadena, CA
Art On Palm, Altadena, CA
Coffee Gallery, Altadena, CA
Dec. 2009 McGinty's Gallery at the End of the World, Altadena, CA
Nov. 2009 Arroyo Art's Collective, Discovery Tour 2009, Los Angeles, CA
Creative Arts Group, Sierra Madre, CA
Oct. 2009 Art on Palm, Altadena, CA
Sept. 2009 McGinty's Gallery at the End of the World, Altadena, CA
June 2009 McGinty's Gallery at the End of the World, Altadena, CA
May 2009 Pasadena Society of Artists, 84th Annual Exhibit, VIVA Gallery, Sherman Oaks, CA
Apr. 2009 Pasadena Waldorf School Festival of Art, Altadena, CA
Mar. 2009 McGinty's Gallery at the End of the World, Altadena, CA
Dec. 2008 McGinty's Gallery at the End of the World, Altadena, CA
Nov. 2008 Art on Palm, Altadena, CA
Nov. 2008 Creative Arts Group, Sierra Madre, CA
Oct. 2008 Art in the Atrium, Studio City, CA
May 2008 Art on Palm, Altadena, CA
Apr. 2008 Pasadena Society of Artists 83rd Annual Show, Brand Library, Glendale, CA
McGinty's Gallery at the End of the World, Altadena, CA
Nov. 2007 Creative Arts Group Annual Art Festival, Sierra Madre, CA
Oct. 2007 Pasadena Society of Artists, Whites Gallery, Montrose, CA
Art on Palm, Altadena, CA
Aug, 2007 Pasadena Society of Artists, Los Angeles Arboretum, Arcadia, CA
June, 2007 Pasadena Society of Artists, 82nd Annual Exhibition, VIVA Gallery, Sherman Oaks, CA
May, 2007 Art on Palm, Altadena, CA
Nov. 2006 Creative Arts Group Annual Art Festival, Sierra Madre, CA
July, 2006 Pasadena Society of Artists, 81st Annual Exhibition, VIVA Gallery, Sherman Oaks, CA
Apr. 2006 Pasadena Society of Artists, Spring Exhibition, Whites Gallery, Montrose, CA
Dec. 2005 Pasadena Society of Artists, Holiday Exhibition, Whites Gallery, Montrose, CA
Nov. 2005 Creative Arts Group Annual Art Festival, Sierra Madre, CA
Awards & Honors:
May 2009 Honorable Mention
Pasadena Society of Artists, 84th Annual Exhibit, VIVA Gallery, Sherman Oaks, CA
Affiliations:
Pasadena Society of Artists
Creative Arts Group, Sierra Madre, CA
College Arts Association
Education:
2003 Master of Arts Degree: Italian Renaissance Art History, Syracuse University,
New York and Florence, Italy
2002 Bachelor of Arts Degree: Art History, University of Southern California
Bachelor of Arts Degree: Studio Art, University of Southern California
1975 Associate of Arts Degree: Fine Arts, Pasadena Community College