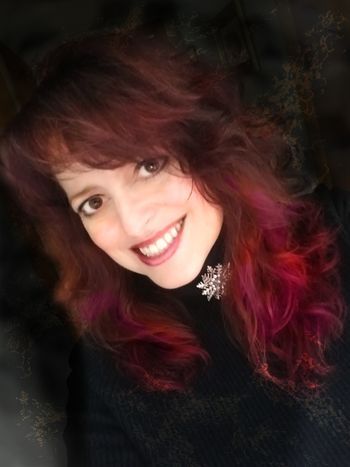 Biographical Information:
Brenda Salamone was born in Tucson, AZ, but grew up in south Florida. Now in California, she paints in studios in San Diego and in Los Angeles, where she lives with her husband, Dean, and their seven cats. A talented artist in many disciplines, Salamone has developed skills and gained experience in traditional painting, digital artistry, special makeup effects, scenic painting, and illustration. She has taught art to students ranging in age from 5 to 75, and continues to keep current in the artistic world by showing in several galleries, working in haunts and film/tv productions as a makeup artist, and illustrating children's books.
When Salamone moved to southern California in 2001, her art became inspired by the untamed beauty of the southwest desert and the crashing waves and giant cliffs of the Pacific Ocean. She has traveled all over the world, finding locations and subjects to paint. Her favorites are the Greek Islands, especially Santorini, and her dream to travel to the Scottish Highlands to capture the wild landscapes, lochs, and standing stones of that ancient land came true as her honeymoon. In her current series, Salamone has been working more in abstracts, but still finds the soothing beauty of nature to be a favorite subject. Her paintings have won awards both internationally and in the United States, and have shown from central to southern California, Arizona, and Colorado, as well as in several movie productions. Her collectors span the globe, including England, Scotland, Cyprus, and throughout the United States.
While much of her earlier art is representational, mostly landscapes, her current work came about from a deepening appreciation of the artistic beauty in all nature's forms. Her style is an abstract expression of the beauty of semi-precious and precious gemstone minerals. These exciting elements of the Earth are often hiding within a gray exterior of rock, and it isn't until they escape this matrix that their true brilliance can shine. She works in both oils and pastels, using iridescent pigments and metallic leaf to emphasize the sparkle of the Earth's treasures.
Salamone's technique came about from examining the crystals and stones in her collection, and beginning by doing a very rough sketch on her canvas or board where she blocks in the largest color areas. She then lays in a tint of color that is the complement to the primary colors in the stone. From there, the painting develops layer by layer. There are big, juicy swaths of color that dominate, but then the veining cuts through, forming interesting little pathways. When painting in oils or mixed media, she adds metallic leaf or powdered silver and copper to the paint before it dries, then layers more color over it. In pastels, she works iridescent pigments into the colors as the painting develops. Usually, the painting takes on an otherworldly aspect, no longer a specific stone, but a fantastic venue of color and sparkle for the eyes to explore.
Artist Statement:
My love of nature always inspires my artwork. Whether of landscapes, seascapes, or animals, my paintings are my way to preserve the rapidly disappearing beauty of the world around us. A deeper appreciation of the basis for that beauty – the earth itself, the air we breathe, the fire that can renew growth, and the water that sustains our life – brought about a new aspect of my work, and my style morphed into an exploration of the elements – earth, air, fire and water.
My paintings often begin with studying the natural minerals and rough gemstones I have collected my whole life. The intricate details of these stones create beautiful worlds of their own to behold. I start with applying layers of color, in either in oils, pastels, or acrylics, and intersperse them with metallic and iridescent pigments or metal leaf. I let my intuition and love of brilliant colors take the paintings into their own fantastic directions, until they depict a mystical new universe to explore. There are times when a painting spends several weeks on my easel, defying any attempt to be what I was seeing in my mind, only to finally settle into place with just a few more brushstrokes and suddenly Become. That's what I live for, that's why I paint.
I am constantly excited and motivated by the Earth element, and I'm looking forward to continuing in each aspect of these explorations as I move into the other elements. My work strives to express the inward significance of our true selves. Human beings are visual creatures, and it is in our nature to make judgments based on outward appearances. The matrix of stone on the outside of a geode may be drab and uninteresting, just a rock that looks like thousands of others around it, but when the treasure inside is exposed and polished, the dazzling results are breathtaking and priceless. The dull exterior of a geode rock had become a metaphor for my life and art. By breaking free and escaping the matrix, my true colors and artistry are able to shine.
"Nature is not only all that is visible to the eye... it also includes the inner      pictures of the soul."  Edvard Munch