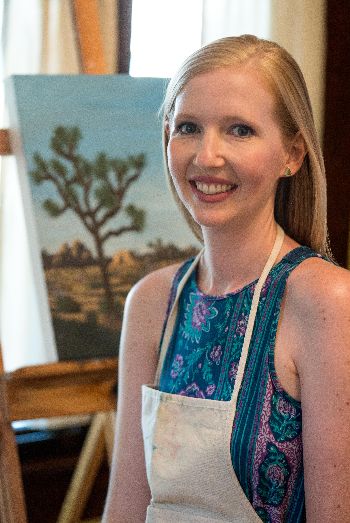 BIOGRAPHICAL INFORMATION:
Emily Nunez is a native Californian that was raised in Virginia and has resided in the Los Angeles area for the past nine years. She began painting as a way to cope with chronic autoimmune disease and quickly discovered her passion for creating art.  She developed her style and technique through countless hours of experimentation in her home studio in Pasadena, as well as coursework at the Armory Center for the Arts and frequenting LA art museums. Her oil paintings depict southern California landscapes and plants and explore themes of growth and resiliency.  Emily holds a bachelor's degree from The College of William & Mary and a master's degree from New York University.  
ARTIST STATEMENT:
I first picked up a paintbrush as a means to help me cope with chronic illness. Painting is deeply meditative experience for me, and I gain a sense of peace through the creative process. Painting has become not only a tool for healing, but a way to express my connection to nature and my surroundings.  I paint southern California landscapes and plants and turn to my own backyard and love of nature for inspiration. 
My creative process begins with taking photographs around my neighborhood and travels throughout southern California.  I then review my photographs and select images that evoke a feeling of awe and beauty.  I embellish these images in my work with bold color, texture, and fine details. Though my work is representational and I paint from photographs, I aim to go beyond the photograph on the canvas.  My work is not meant to be photorealistic, but rather a simplified, enhanced, and idealized version of the original image.  By painting in this style, I aim to convey my deep respect and admiration for the natural world. I want to open the viewers' eye to the intricate details, textures, and patterns of the nature that surrounds us, which we often overlook. While I also paint with acrylic and watercolor, lately I'm most drawn to working with oils due to its vibrancy of color and thick texture.  
I'm drawn to the landscape and plants of southern California, and incorporate Joshua trees, palm trees, cacti, and other succulents into my latest work. Having grown up on the east coast, these desert plants have an exotic and alluring feel to me.  They also symbolically represent growth, resiliency, and survival.  I'm currently working on a series of blooming cacti, which explores the idea of thriving under harsh, arduous conditions.