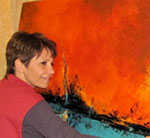 Biographical Information:
Born into a family of art enthusiasts, Anahid started taking traditional oil painting lessons at a young age. In college, she studied advertising art and worked with several design companies—nevertheless, her love for oil painting stayed strong. In recent years, she began to transform her painting style, combining her love of nature and its vibrant colors with a more contemporary, abstract approach. The freedom and depth that came with experimenting with different colors, textures, and their effects created a renewed energy and passion in Anahid's artistic mind, which is shown in her work today. Anahid is currently living with her husband, daughter and son in southern California.
Artist Statement:
The journey begins as soon as the paint touches the canvas. Nature and colors have a powerful influence in my paintings, and while I draw inspiration from the beauty of everyday scenery, I paint without a set idea in my head. Instead, I just let the vibrant colors flow, layer upon layer, harmonizing and telling their own story on the canvas. I love what I do; the completion of each piece brings with it a new insight, a sense of peace and sheer satisfaction.
Past Exhibitions:
2013 – Group Exhibition at Pasadena Society of Artists
2012 – Group Exhibition at Seyhoun Gallery – West Hollywood
2011 – Barnsdall Gallery, CA
2011 – Silvana Gallery, CA
2010 – Silvana Gallery, CA
1984 – Armenian Society of Los Angeles, CA
1982 – Armenian Society of Los Angeles, CA
Affiliations:
2013 – Accepted into the exclusive New York Art group by the jury New York Art
2013 - Accepted into the Pasadena Society of Artists by the jury.
2012 – Accepted into the exclusive Laguna Art group by the jury Laguna Art