Francis Mark Woods BIO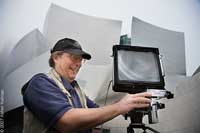 Biographical Information:
Mark Woods has worked in film production for many years. His background is predominately in TV commercials where the look and ability to tell a story visually is of utmost importance. He understands how to take the fundamentals and create something new and exciting in both film and digital media.
Mr. Woods started his career in 1968 as a still photographer doing street photography and studio work in Berkeley. He only shot Black & White for 7 years using Ansel Adam's Zone System. In 1971 he earned a Bachelor of Arts degree from the University of California at Berkeley in Anthropology, with an emphasis in Photo-Ethnography. (This is documentary photography with the point of view that the photographer is a participant observer.) The "turf" he studied for 9 months in 1970 - 71, was one block of Telegraph Avenue that was the focus of many South Campus activities, i.e., protests, street craftsmen, drug dealers, junkies, bikers, etc. The University sponsored a one-man show of his work after his graduation in 1971, and became his first big client.
In 1973 he moved back to Los Angeles to work with his grandfather, who was a director/ producer/distributor. The most recognizable film his grandfather produced and distributed was "REEFER MADNESS." Since 1973 Mr. Woods has worked steadily. He's been the Director of Photography on over 1000 TV commercials, and won numerous awards, including a Cable ACE and a New York Festival Silver World Medal in 1996.
He's known for his sensitivity to light and composition, and achieving a natural look with minimal equipment. His training in Anthropology has made him sensitive to what Henri Cartier Bresson described as, "The Decisive Moment." This is a visual moment in time that defines the person in relation to his environment. As a Director of Photography this is equally critical. For example, when bringing a naturalistic look to a project, he has a large body of work and experience as an anthropologist to draw on, and the technical expertise to put the director's vision on film quickly.
He recently embarked on alternative processes in his Large Format still photography work, Platinum/Palladium and Carbon Transfer processes in particular.
Artist's Statement:
A moment In Time
Teasing Death, Ultimately
Lost In Time Itself
A photo still life is a moment in time not so different from still lifes done throughout the ages. Common objects are brought together to express something more than the individual elements. One may be as simple as cactus flowers viewed in a unique way, or combining an early photograph of a relative with an object from later in his life - an innocent child who grew up to become a bombardier in a war and was forever changed. Or seeing a round rock moving through the ethers might possibly better shape one's perspective. We share this unique special sphere and perhaps we could be better neighbors if we realized that the planet is our lifeboat.
On a more personal level, we come together and celebrate life and leave small elements of ourselves to our children and history. We experience beauty and if we take the time to look closely we may find it in unexpected places. Like most artists, I want to share my vision with people in an effort to build bridges of understanding and beauty.
Partial List of Awards:
Nomination Kodak Vision Award - SHOT feature film, Director of Photography
Cable ACE Award and New York Festival Silver World Medal-- Entertainment/Cultural Documentary, "INSIDE THE DREAM FACTORY," Director/Camera
Clio Award Finalist -- PSA Commercial "BAG IT" Director/Camera
Belding Certificate Finalist -- PSA, "BAG IT!" Director/Camera
2 Belding Certificates for Merle Norman Cosmetic Commercials, Director of Photography
United Nations Finalist Award -- PSA Commercial "BAG IT!" Director/Camera
Hispanic Ad of the Year '92 -- PSA Commercial "BAG IT!" Director/Camera
Emmy Nominated Program "THE KING & I: RECORDING A HOLLYWOOD DREAM," Director of Photography
Emmy Nominated Title Design - "Politically Incorrect" Title Design
Senior Lecturer at the American Film Institute Cinematography Discipline
Member of Local #600 International Photographer's Guild
Member of The Academy of Television Arts & Sciences
Member of the Society of Motion Picture and Television Engineers