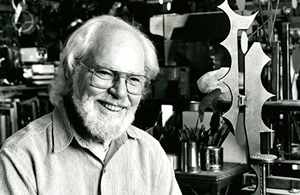 Bio & Artist Statement:
Born and raised in the San Gabriel Valley, Robert Moore has, for most of his life, been dedicated to the art of steel. Schooled in sculpture and the technical arts, Moore has allowed these two influences to drive his work for over 50 years. From early in his career with figurative sculpture, to his mid-career exploration of large structural steel abstracts and kinetic sculpture, Robert's mastery of steel is more evident today than ever.
Robert's art is constantly exploring and transforming our perception of the material - a mainstay in his body of work. This ability to transform steel into something of unexpected beauty has brought him acclaim throughout his career from galleries and collectors alike. He continues to work from his Altadena home and studio, where he lives with his wife Linda.
Biographical Information:
1936 Born in Alhambra, CA
1955 Entered USAF Basic Training at Parks AFB, near San Francisco, CA
Studied Cartographyat For Belvoir, Virginia Engineering School, near Washing DC. Served in Okinawa Japan, Air Defense Center as a cartographer.
1957 Transferred to Sandia Base - the Armed Forces Special Weapons Testing Program, Albuquerque, NM
1958 Attended Pasadena City College, majoring in Art
1960 Transferred to Long Beach State College where studies continued under Kenneth Glenn for sculpture and Richard Swift for Print Making
1962 Received B.A. in Drawing and Painting from Long Beach State College. Upon graduation, began employment with the National Engineering Science Company (NESCO). Moore also began to pursue a Graduate degree insculpture from Long Beach State College, where he first gained experience in welding steel.
1965 Left position as head of Technical Illustration/Graphics Department at NESCO to pursue art full time. From 1965 through 1968, Moore collaborated with acclaimed artist Don LaViere Turner both in California and in Wisconsin. It was during this time Moore began developing work concerne3d with figurative steel sculpture.
1968 Left Don La Viere Turner to continue developing solo work in welded steel.
1969 Received first major public commission, "Horse, Life Size, #249."
1970-88 Structural steel works with "Festive Artists" float builders for the annual Tournament of Roses Parade. Develops kinetic sculpture works in personal studio.
1990-94 Several public commissions, mainly mobiles and interactive kinetic sculptures. Begins Sycamore series.
1994-2001 Continuation of Sycamore series, using scrap steel from Rose Parade floats.
2002 Commission of large mobile in the lobby of the Standard Hotel, Los Angeles, CA
2003-2015 Continued development of mobiles, welded steel and kinetic sculptures.