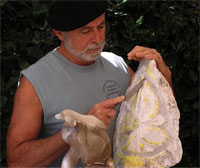 Biographical Information:
I retired early from a 30 year career in medicine, as a Physician Assistant to devote my life to a world of art. During most of my medical years, I kept busy in my art studio and by facilitating events for sculptors. Studies at different schools, meeting other artists, and obtaining a BFA at the University of Washington, provided me with an inspiring framework from which to develop a style. Abstract expressionism in drawing and painting, bold, infinite curves in wood and stone, sensual, warm expressions in clay --- all these combined into my portfolio that spans 4 decades.
Having been a charter member of Northwest Stone Sculptors Assn. in Seattle, (1986), my leadership established their annual symposium, which is still a very successful event for stone sculptors. My insights helped develop other symposiums also in Oregon, British Columbia, and California.
I have been a regular volunteer at Tierra del Sol, a school for adults with developmental disabilities, where I function as a tutor in art. I also volunteer at an elementary school in Santa Paula, and am trying to develop a new art program.
I have been an active member of PSA for 7 years, and am currently Co-Director of Programs.
Having helped start California Sculptors Symposium,,Inc, 501c3, I have been Symposium Director for 10 years, and I am a charter board member. While always busy in my own studio, I exhibit frequently in the LA area and regularly in Palm Springs.
Artist Statement:
Sculpture is the primary expression in my art. Sculpting gives me the satisfaction of unique and desirable works of art, and connects me to my world. Whether it's working in stone, wood, or clay, art fills my days. I am interested in a variety of stone and different approaches to design. Enticed by the stone, I go directly through the surface and beyond. Unique shapes come to life as I explore a search for wholeness and cohesion. The shining white marble crystals or the red veining in alabaster, or the boldness of granite lead my hands into the heart of the stone. Translucent stone influences my joy of light, shadow and simple form. Modelling clay adds a passionate element to sculpting. I also write poetry, which helps me understand my human condition and feelings.
My sculpture expresses harmony and strength, spontaneity and continuity. Themes of birth, movement and growth dominate my work. Stone of the mountain, wood of the forest, clay of the ground, shells of the beach, plant forms and the human body provide inspiration for me. A gesture of love, a person's face or body, or the opening of a leaf provides me with living models. Expressing, what I love and admire, through art, is my calling.
Solo Exhibitions:
Occidental College 2001
Group Exhibitions:
Numerous PSA Exhibitions since 2005
Desert Art Center Gallery Palm Springs since 2006
Aunt Effie's Sculpture Garden, Palm Springs since 2011
Desert Art Collection, Palm Desert 2004-2006
Numerous Exhibits in the Pacific Northwest 1986 >present
Washington D C 1988
Awards & Honors:
Charter Member NWSSA 1986
NWSSA Symposium Director -12 years, President of Board - 7 years
Best in Stone 2009 Sculpture By The Sea Cambria, CA
Collections:
Washington State Convention & Trade Center, Seattle, WA
Group Health Hospital, Seattle,WA
Instituto de Allende, San Miguel de Allende, GTO,Mexico
Private collections across USA
Affiliations:
Pasadena Society of Artists (PSA)
California Sculptors Symposium (CSS)
Northwest Stone Sculptors Association (NWSSA)
Education
University of Washington, Seattle,WA 1973-1976
Burnley School of Commercial Art,, Seattle 1971-1972
University of St Tomas, Houston ,TX 1964-1965