Philip Lindquist BIO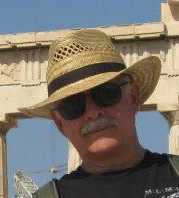 BIOGRAPHICAL INFORMATION:
I was born and raised in southeast Pennsylvania and spent most of my life in the eastern half of the country.  I came to Pasadena a bit over twenty years ago, and this has been my home since.  Pasadena provides ample opportunity for those of us interested in subjects with historical and/or architectural import.
I have participated in workshops with Mark Strickland and Maddine Insalaco in south central France, Tuscany, and California.
ARTIST STATEMENT:
I was trained as an engineer rather than as an artist.  I have no new age inclinations; I paint to paint.  While I am interested in color and technique, I tend to focus on form and function, and the interaction of shapes on the canvas.   This has encouraged an interest in old buildings, structures, and the interface between nature and the things that humans have made or left behind.
I paint in oil, typically on canvas or paper.  Recent experiments with watercolor, while they cannot be claimed as successes, have somewhat informed my work in oil.
RESUME:
Solo Exhibitions:
2017 (Upcoming), Featured artist in the Survivor Art Series program in the Jennifer Diamond Cancer Resource Library at USC Norris, Los Angeles, CA
February, 2009, Sandstone Gallery, Guest Artist, Laguna Beach, CA
Group Exhibitions;
2014, Painting accepted for inclusion in Contemporary Masters, Artistic Eden IV exhibit at the Pasadena Museum of History, Pasadena, CA
January 2010, 8th Annual SCORE (Southern California Open Regional Exhibition), VIVA Gallery, Sherman Oaks, CA
May 2009, Pasadena Society of Artists 84th Annual Exhibition 2009, VIVA Gallery, Sherman Oaks, CA
May 2009, Workshop Exhibit, Palm Springs Art Museum, Palm Springs, CA
January 2009, Pasadena Society of Artists New Member Exhibition at Whites Gallery, Montrose, CA
October 11, 2008, 3rd Annual Pasadena ArtWalk, Pasadena, CA
March 2008, Second Annual French Art "Soirée," Alliance Française de Pasadena, Pasadena, CA
Education:
BS (Engineering Physics) – Cornell University
MS (Engineering Physics) – Cornell University
EEE (Electrical Engineering) – University of Southern California