Barbara Thorn-Otto BIO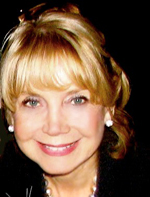 Biographical Information:
I was born in New York City and raised in Southern California. I majored in fine arts at Pasadena City College and attended Art Center on a scholarship. After a short period in the entertainment industry, I worked as a representative in sales and marketing for eighteen years.
I've participated in local art exhibitions and had the opportunity to have my work displayed at the J. Paul Getty Museum Underground Exhibition in Brentwood, California in 2003. I'm a member of the Pasadena Society of Artists and The Verdugo Hills Art Association and The Fine Arts Federation of Burbank, Ca. I'm a regular at the annual Montrose Chamber of Commerce Artwalk and attend watercolor classes at Brand Park in Glendale. I am President of the Brand Associates of the Brand Cultural Arts Center at the Brand Library. I direct the Library Tours and handle the membership. Believe me, I still feel like a newcomer to the world of watercolor and love every minute of it.
Artist Statement:
My medium is watercolor. I started out ten years ago and love the transparency I get when I create a painting. Watercolor is not easy and I am constantly amazed at the things I learn when I run into problems. Solving them always brings something new and exciting to the image.
I believe art is a necessity and not a luxury. It fills our souls and brightens out spirits. It's hard for me to imagine a rich and fulfilling life without the inspiration of artists and the art they create.
For me, painting is a marvelous tool of self-expression. It is reproducing life in a fresher, brighter and interesting way. It surpasses any digital photograph. A painting creates a mood, a feeling and stimulates our imagination. What a more wonderful way to experience life!