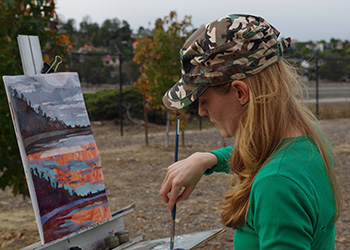 Biographical Information:
I was raised in Michigan and Ohio. As a 2 year old, I drew alongside my mom as she taught art classes in our living room. High School is when I really fell in love with paint, and I won regional and national painting awards. In college, I decided to pursue a degree in Film, but never stopped studying and practicing art.
After moving to Los Angeles, I started taking classes at Barnsdall Art Center, where I learned oil techniques and had my first taste of plein air. My drive is to convey a sense of light, mood, movement and color in all that I make. My work has been shown and sold at art events in Los Feliz, Silverlake, Atwater Village, and Downtown LA.
Artist Statement:
My current passion is for painting "en plein air." Painting in the environment, in the wind and sun, in the changing light, with the sounds and smells of the city, is what lights me up.
I'm drawn to the landscape of Los Angeles, this intersection of the urban and the wild. This land feels both prehistoric, and achingly current. I love to capture a sense of atmosphere, in the corners of town where people work and live. To me, painting is a way to celebrate the beauty and energy of the land and to continually explore this city.
In the past 2 years, I've been changing my oil painting approach, incorporating a haze of spray paints, or using acrylics to create textured underpaintings for my oils to drip and run over.
Group Exhibitions:
Los Angeles Plein Air Festival, 2015
Atwater Village Artwalk, 2015
Silverlake Neighborhood Nursery School Fundraiser Art Show, 2015
Los Angeles Open Call, Small Works 2013
Los Angeles Open Call, 2011
Awards & Honors:
Marie Walsh Sharpe Art Foundation, 1998
Scholastic Art Awards, Silver Medal, 1998