Monica Mader BIO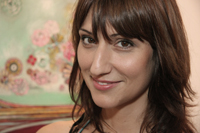 Biographical Information:
Born and raised on the East Coast, Monica Mader began her training in silk screening, culinary art and copper foil stained glass art in her teenage years. At that time, she also acquired fundamental skills in metal shop, plastics, woodworking, power and auto mechanics.
One of her first loves, culinary arts, led her to Boston, where she received her degree in Hospitality Management. She was a commencement speaker at graduation.
Since then, she moved West and became an apprentice to a stained glass artist in Southern California. While developing her skills and techniques in leaded glass, including beveled glass work, copper foil, sandblasting, fine antique lamp repair, mold making, installation work and Dalles de Verre, she has grown as an artist. Her creative style has emerged, showing influences by nature, gothic art, and modernism.
Artist Statement:
Dalles de verre, which is approximately 8" x 11" x 1" thick slabs of glass, has been individually hand cut and faceted to achieve the high contrast between color and negative space. In this body of work, it is an expression of light through dark, symbolic of finding hope through hurt.
Group Exhibitions:
2008 Phantom Galleries, LA/Pasadena, CA
2007 The Playhouse District Art Walk, Pasadena, CA
2007 The Dale Youngman Gallery at the Regent, Los Angeles, CA
Affiliations:
2008 Pasadena Society of Artists