David Johnson BIO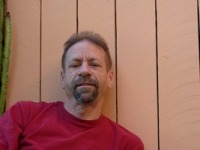 Biographical Information:
David Johnson is a native of the Pacific Northwest. He received his BA in creative writing from the University of Washington and worked as a writer and analyst for many years. Always though, he was involved in artistic activities including sculpture, performance and conceptual art. He didn't start painting seriously until 1990. He consider himself self taught, though he attended art classes at the University of Washington and at the University of New Orleans and also life drawing classes at Loa Angeles City College, Glendale College and Barnsdall Art Center. He traveled extensively while young, living in Europe, Latin America and Asia before settling in Los Angeles. David has participated in numerous group shows and is privately collected. He teaches drawing privately.
Artist Statement:
Being a Northwest native where the light is grey and color is perceived in subtle shades, Southern California was an eye-opener with its clear light and bright colors. Also, coming from a region where the land was not visible beneath the vegetation, I am eternally fascinated by the folded and undulating landscapes, far horizons and kaleidoscope of colors. While I work in other mediums and other subject matters, landscape painting in oil has possessed me for several years.
Our way of seeing landscapes has been profoundly altered by the ubiquity of the camera and color printed images. Along with other photographic conventions, we have internalized the collapsing of plains of view, distortion of perspective, suppression or heightening of detail, acceptance of unnatural colors and the distillation of action into a frozen image. I work within these new conventions while attempting to preserve the pleasure and romance of the traditional landscape painting.
My landscapes are allegorical as well. I use the metaphor of the road for life's journey - not an original idea, especially to those who listened to the folk-rock music of the '70s. The radical simplification of form is an attempt to expose essence. Hopefully, interpretations are not of triviality, but of the nuances of an existence where the curve ball, the unexpected and the cataclysmic are the norm yet eternal values reign.
Group Exhibitions:
PSA Annual at Brand Library - 2008
White's Gallery. Small Works - 2006
Gallery 1140 - 2005
Pacific Lutheran College - 2004
Ishalla Gallery - 2004
Eagle Rock Center for the Arts - 2003
Cal Poly Pomona Art Gallery - 1998
Art/Song (ASC) - 1999, 2000, 2001, 2002, 2003, 2004
Armory Center for the Arts - 1996, 1997
Coos County Museum of Art - 1993
Education:
I am largely self-taught. I received a B.A. from the University of Washington in Creative Writing. My art education has been long and peripatetic including attending art classes at the University of Washington, the University of New Orleans as well as private lessons. I have taken as many drawing classes at Barnsdal and our local community colleges as I could get away with.