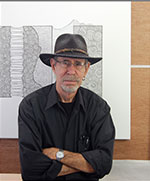 Biographical Information:
I was an Art Director for about 25 years. Knowing what I know now, I would have become a cinematographer instead. Each frame of a film can contain a full story. Freeze a well-shot film on a frame, forget the films story... just let your imagination explore the stories that can be derived from that single frame.
That's how I see painting... I have a single frame to tell a story... the exact story is in the imagination of the viewer.
I hail from the South (Virginia) but went through my schooling in the Bay Area. After a tour in Nam and some crazy years, I came to LA to create a 'theatre town'... failed completely, so I settled into jobs that paid the bills... the industry.
At the beginning of the recession I (unwisely) walked away to sculpt... I'm talented... not always smart. The sculpting didn't pay off, but I didn't fail.
I now divide my time between painting and writing. When I write, I can't imagine not writing... when I paint, I can't imagine not painting. Hopefully one/or both will eventually support my continuing to do both.
All I can do is enable things to happen, I can't control the results.
Now you have my story.
Regards,
Steve Graziani
Artist Statement:
Though I previously sculpted in steel and wood I began painting in 2012 with the "Perceptions" series of black inked line work on canvas. I worked with the vibrations of patterns to express the frailties and strengths most of us share.
What I discovered is that, like my writing, I enjoy telling stories. The work is more stylized than abstract, but much like abstracts, I'm not as concerned that you discover the story I'm telling... just that you find something to discover.
I've recently moved over to color and larger canvases. I still see it as working with pattern vibrations, just bolder lines... and a broader range of stories.
Solo Exhibitions:
PSA Artist Choice Exhibit - 2013
Conejo Valley Art Museum Show (1st Place in Category – Painting) - 2013
Sausalito Art Festival (Sculpture) (Honourable Mention) - 2008
Santa Barbra Art Festival (Sculpture) - 2008
Beverly Hills Affair in the Garden (Sculpture) - 2008
Awards & Honors:
Conejo Valley Art Museum Show (1st Place in Category – Painting)
Sausalito Art Festival (Sculpture) (Honorable Mention)
Affiliations:
EVAC – Elysian Valley Arts Collective (Frogtown)
PSA – Pasadena Society of Artists
Education:
San Jose State University – Fine Arts (Sculpture) / Theatre Arts (Set Design)