Gwen Gordon BIO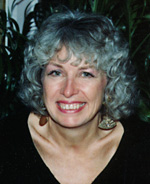 Biographical Information:
Gwen Gordon works mainly in watercolors and enjoys painting flowers for color, landscapes for trees, portraits for character, cats for esthetics, and still life for study. She has developed her own unique way with the medium.
Her vigorous use of color joined with dynamic designs give Gwen's paintings a unique quality and energy. When standing before a breathtaking landscape, a simple flower or a compelling face she is overcome with a desire to capture all that quivering life. Gwen knows that art is a giving thing, an extension of oneself to put down not just paint but excitement, not mere rendering, but passionate expression.
Finally taking herself seriously as an artist, a year of painting from life taught her to truly 'see'. At the beginning of this year she took a drive through Topanga Canyon, and one year later returned. She was astonished at the difference! Dull brown hillsides became filled with rich neutrals of rose, rusts and golds. Skies were aquas, violets and heartthrob blues. Trees became symbols of determination and finally, she saw the truth of how things really are.
She has a strong background in commercial art and textile design working with clients in the United States and Australia. Today she's still involved with commercial art and graphics. Beside the photography used to inform her paintings, she creates websites. Also loves to knit, working from her own patterns.
Artist Statement:
I've been involved with art all my life and have worked in many mediums. This included stained glass, mostly because of the richness coming from light passing through color! When studying painting in 'Plein Air' I discovered my 'vision' and got this same excited feeling about painting. I love the use of exuberant color. It's a magic moment when the painting tells me what to do next, brushes, paint plus paper combine to know more than I can figure out. I must be most creative about the struggle to begin working. Staying excited and following impulses insures that inspiration will find me hard at work.
My style of impressionistic realism has recently been influenced by experimenting with abstraction. Each new project is a challenge to push past boundaries, try something new, and staying fresh. One of my favorite quotations on art is -
"Let my life be simple and straight, like a flute of reed for thee to fill with music" - Tagore
I have been influenced by Joaquin Sorolla, Claude Monet and John Singer Sargent. Presently I greatly admire William Wray for his dynamic urban landscapes, Jean Martin for her freshness with flowers, Joseph Raffael for his inventive backgrounds, and Janet Fish for her faithful attention to light and detail.
Group Exhibitions:
Gwen has shown at the Esther Wells Collection in Laguna Beach, Creative Arts Group in Sierra Madre, belongs to and shows with the Pasadena Society of Artists. Also has shown with the National Watercolor Society, at the Brand Library, San Gabriel Fine Arts, Women Painters West, and the Fine Arts Gallery at CSLA.
Education:
Gwen was educated at Art Center College of Design, Otis Art Institute, and Pasadena City College. Sudied watercolor with Robert Wood, Bob Uecker, and oils with Dan McCaw, Dan Pinkham, and Bill Perkins. She has taken many inspiring workshops with these gifted artists.