Alan Garber BIO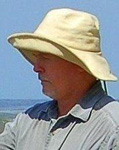 Biographical Information:
Several years ago, California native Alan Garber purchased an outdoor easel, paints and supplies, and for the first time, embarked upon the adventure of oil painting.
As a boy, he was frequently drawing and painting in watercolor. At nineteen, while he launched his first career as a professional seaman, he carried along simple gear with which to capture his experiences in sketchbooks.
During his late twenties, seeking a more stable life ashore, Alan completed a two-year arts program to begin fifteen years as a graphic artist and designer for Los Angeles advertising agencies. In free time, seeking new creative challenges, he developed self-taught modelmaking techniques and was recruited into the film industry as an effects modelmaker in 1996. From then until now, his outstanding works have been featured in a score of major motion pictures, from TITANIC to IRON MAN.
These experiences honed Alan Garber's senses of observation, aesthetics and creativity. On a periodic break between film projects, he was struck hard by the power of the great California plein air impressionists' work. For the first time in his life, the passion and determination to paint in oils overtook him. He assembled a basic kit, set out to a five-day workshop in Arizona, and returned home to paint his first solo plein air landscape.
He has painted ever since, between film projects, after-hours, at any available moment, with increasing frequency. He brings to his work the technical ability to get the drawing right, and the artistic skills to make a subject his own, well stated, with a strong personal style. His paintings are characterized by dynamic composition and clean harmonious use of color, with bold and nuanced expressive brushwork throughout.
Artist Statement:
Plein air painting is, for me, always a fresh adventure. The challenge of facing each chosen subject begins like the bow one makes to his opponent at the start of a judo match. Anything may happen as the action unfolds. Moment-to-moment, every subject is new. I focus and begin, finding my way, intent, advancing, drawing from all that brought me to this point. Time to paint!
Group Exhibitions:
2009 Chasing Open Spaces IV, Invitational Show, Canyon Theatre Guild, Newhall, CA
2009 California Open Exhibition, Juried Show, TAG Gallery, Santa Monica, CA
2006 Small Works Show, Juried Show, Segil Fine Art, Monrovia, CA
2005 Small Works Show, Juried Show, Segil Fine Art, Monrovia, CA
Affiliations:
California Art Club
Pasadena Society of Artists
Education:
Frank Serrano Plein Air Painting Workshop
Gregory Hull Plein Air Painting Workshop
Los Angeles City College, Graphic Design
University of California, Berkeley, Humanities