John Dubin Bio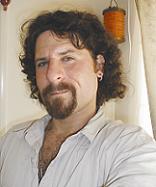 Biographical Information:
John Dubin is a West Coast artist who works in numerous mediums and techniques. Although color blind, John has developed his own unique style of perception and imagination that he draws on for the subject matter and inspiration in his work. The artist seeks not only to represent a scene from his minds eye, but also to convey to the viewer his thoughts and emotions that motivated the paintings creation.
John is also a member of The Pasadena Society of Artists, his paintings, murals, and illustrations are displayed in local galleries, offices, shops, and are owned by private collectors as well. When not behind his easel, John is an award winning high school teacher specializing in computer graphics/illustration and animation. He also holds a degree in gemology from the Gemological Institute of America.
In his downtime, John is an avid traveler who enjoys prospecting, kung fu training, and adventure of any sort. The artist currently resides in Southern California with his orange cat, "Pete."
Group Exhibitions:
Gallery in Motion, Glendale California
The Coffee Bean, Monrovia California
Myrelle Galleries, Monterey California
Azo Gallery, Covina, California
Viva Gallery, Sherman Oaks, California
Eden Designs, Newport California
Affiliations:
Pasadena Society of Artists