Diane Destiny BIO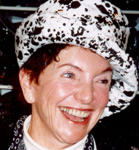 Biographical Information:
Diane Destiny received her MFA Degree from California State University, Los Angeles. Since graduation she has taught at Mission College; California State University, Northridge; California State Polytechnic University, Pomona; and California State University, Los Angeles to name a few.
She has had eight one person exhibits, the last in 2002 at Bergamot Station, Santa Monica. Ms. Destiny has also exhibited her work in competitive and invitational annuals and group exhibitions far too many to list.
She received the Annual Juried Exhibition of Works on Paper, Brand Library Art Galleries and the Annual Westwood Art Association first place cash awards. In addition she has won other prizes and awards. She was also awarded a sculpture Commission for Southern Colorado State Universary, Pueblo, Colorado.
Her work can be found in the following publications: Feminists Who Changed America 1963-1975; The international Library of Photography, Priceless Treasures,1999; Visions Art Quarterly, 1993/94; and Guide to Artists in Southern California Art Resource Publication.
Her work is in permanent collections at the National Museum of Women in the Arts, Washington, DC and The Brand Library, Glendale, CA
Artist Statement:
Visionary Poetry is a give and take process where the artist, Diane Destiny, creates the vision based on a poem written by Joyce Stein OR the artist creates the vision and the poet responds by writing a poem based on the art piece. The images are created on the computer, printed on canvas, presented on brushed aluminum and finished as an encaustic painting. The encaustic adds a feeling of mystery with a balance of transparent and opaque areas.
Poetry makes the reader experience through the verse and its rhythm the thoughts and feelings of the poet. The words chosen are based on the poet's reaction to the visual impact of the art piece. Words have their own color and shape and the artist reacts to them with her individual vision of their meaning.
The art piece and the poem are designed to complement each other. Each Painting is accompanied by an audio recording for the viewer to listen to the Poem while viewing the Painting. Some viewers and readers may find their own interpretation of a specific combination and that adds even more to the viewing. Enjoy the presentation.
Solo Exhibitions:
2002 BGH Gallery, Bergamot Station, Santa Monica, CA
2001 Onion Gallery, North Hills, CA
1995 Cardini Ristorante, Los Angeles, CA
1992 Malibu Residence, Malibu, CA
1976 Floating Wall Gallery, Santa Ana, CA
1975 Sangre De Cristo Art Center, Pueblo, CO
Group Exhibitions:
2009 Abstract LA; Art Gallery at West L.A. College, Culver City, CA
2008 Women in Space; American Jewish University Platt Gallery, Brentwood, CA
2008 Visual Literacy; 2nd City Council Art Gallery, Long Beach, CA
2008 Postcard Art Show; Atrium Gallery, Los Angeles, CA
2007 Pillow Talk; Ruth Bachofner Gallery, Santa Monica, CA
2007 Top Drawer; Atrium Gallery, Los Angeles, CA
2006 Up Close and Personal; Curators Choice, SCWCA Gallery, Los Angeles CA
2005 Looking for Art; L.A. World Airports Exhibit, LAX, Los Angeles, CA
2005 Impressions of L.A.; SCWCA, Los Angeles, CA
2005 Snap to Grid; L.A. Center for Digital Arts
Awards & Honors:
1999 Cash Award, Annual Juried Exhibition of Works on Paper, Brand Library Art Galleries, Glendale, CA
1997 Second Prize, Fine Art Photography and Mixed Media, CA
1997 Honorable Mention, Ink and Clay, Cal Poly Pomona, Pomona, CA
1972 Cash Award, Second Prize, 1st Annual Exhibit Moorpark College, Moorpark, CA
1971 Cash Award, Second Prize, Ventura County Forum of the Arts, Ventura, CA
1971 Cash Award, First Prize, Annual Exhibition, Westwood Art Association, Westwood, CA
Affiliations:
Council of Women Artists
Kappa Pi - Art Honorary, Gamma Tau Chapter
Women for Cal Arts
Womanspace, Los Angeles Board Member
N. O. W. Women in the Arts
Los Angeles Institute of Contemporary Art
Los Angeles
Kappa Alpha Theta Sorority Alumni
Woman's Caucus for Art
College Art Association
Double X
Versions & Visions
Los Angeles Contemporary Exhibitions
Arroyo Arts Collective
Pasadena Society of Artists
Clickers and Flickers Photography
Collections
National Museum of Women in the Arts, Washington, DC
Brand Library, Glendale, CA
Education:
1971 Master of Fine Arts, California State University Los Angeles