Libby Breen BIO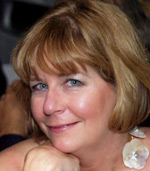 Biographical Information:
Libby was born in Iowa and raised in Northern California when one could still burn leaves in the backyard. Married for 16 years, she is now going through a divorce.
Artist Statement:
Always an artist, her first published drawing was in Life Magazine in 1964 on the Charles Schultz theme "Happiness is" and her drawing was of a boy with a broad smile titled "Happiness is clean teeth." Libby earned her living as a graphic designer for many years in Los Angeles and New York and now enjoys painting and selling watercolors and oils, frequently done in the plein air style. Libby loves the experience of painting outdoors, enjoying nature, the site she's in and often with the company of other painters.
Group Exhibitions:
Pasadena Society of Artists
2006 Juried Exhibition, Whites Art, Framing & Restoration, Montrose CA
2007 Juried Members Exhibition, Whites Art, Framing & Restoration, Montrose CA
2007 3 Artist Show, Amy's Patio Cafe, Altadena CA
2007 Playhouse District Association Annual ArtWalk, Pasadena CA
2007 Selected Member show, Creative Arts Group, Sierra Madre CA
2008 PSA juried show, Viva Gallery, Sherman Oaks
Awards & Honors:
2007 Members Exhibition, Whites Art, Framing & Restoration, Montrose CA
Honorable Mention
Morning Fog - oil, 10" x 8" - 2007
Affiliations:
Pasadena Society of Artists
Alumni-Art Center College of Design
Education:
1975-1978 Art Center College of Design (Graphic Design and Packaging)
2005 Watercolor classes with Mary Archibald, Jim Burns