Julie Hunter Bagish Bio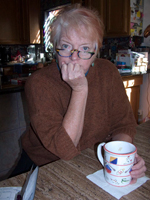 Biographical Information:
Ceramic Artist and Print Maker for thirty years, starting in Japan and New York. In Silver Lake for twenty years, where she established Juls Pottery (a teaching studio) and Growling Fish Gallery. Featured in the recent fifth edition of "Hands in Clay," by John Toki. Work includes completed custom tiles for homes and hotels, from walls, staircases and fireplaces, to art installations in New York City, Philadelphia, Phoenix and Los Angeles.
Invited to Joge, Hiroshima, Japan to make and help install custom tiles for the Garden of US special "seat," similar to one in a special garden in Los Angeles, where her work has been installed, along with work by seventy other artists.
2001, invited to Ichon, Korea to demonstrate and lecture. Her work is now part of the permanent collection in the Ichon Museum.
Invited to participate in the new Beatrice Wood Performing Art Center's 'First Annual Ceramic Show' (Feb. '05).
Recently created the "Pisces Party Patio" and "Pisces Kitchen," utilizing over one thousand of her hand-made tiles.
Taught specialized workshops for children, at Ivanhoe School and high school students at Mira Costa High School, along with helping private students create tiles for their homes.
Her work is done only in hi-fire stoneware and porcelain, with hand-made Japanese style glazes and fired in a 22 cu.ft kiln. All work is created at Juls Pottery studio, with original designs for each project. Antique Japanese press molds or original rubber molds are used for creating the tiles. Projects can be completed from original concept to final installation, or with groups who may want to participate in community endeavors.