Seda Baghdasarian Bio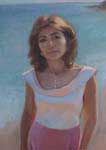 Biographical Information:
Seda Baghdasarian is a visionary– a creative who enjoys visual storytelling as a painter, photographer, showset & architectural designer. Born in Iran, and raised in United Kingdom, she received her first-class honors degree in Interior Design from London Metropolitan University in 1982. After a brief period of working for Channel 4 Films, she moved to America and began a 20-year career in large-scale commercial for corporate & themed-entertainment design for major Hollywood studios. Main projects included Universal's Islands of Adventure Theme Park in Orlando, Florida; where she designed and directed concepts through construction documents for Retail & Restaurant Interiors, Storefronts & Street Scenes, as well as Show/Ride Venues for Marvel Superhero Island: Spiderman Storefront & Retail, Captain America Diner, Cafe 4, Doom Alley, & Seuss Landing: Cat in the Hat Ride, Circus Mc Gurkus Restaurant, Seuss Trolley. Other projects included WaterWorld & Jurassic Park, Universal Studios, Osaka, Japan, and later consulting work for entertainment design firms.
Returning to her passion for painting & photography in 2000, she studied with award-winning artist and filmmaker Arthur Bjorn Egeli, who apprenticed color with American master impressionist Henry Hensche.
Since her first travels to her native land in '06, Seda is fortunate to have met and studied with maestro Armen Atayan. A ninety-year-old living legend, who taught academic painting for four decades at the renowned St Petersburg Academy in Moscow, & the Yerevan Art Academy. A self-taught photographer, Seda has visited and documented some of the world's most sacred places. She is strongly committed to the education of young minds, renovating village schools in Armenia and Peru, and always in support of the arts as well as environmental conservation efforts & sustainability practices. The artist lives and works by the great Pacific in Malibu & Pasadena, echoing the moods of the ocean and the land through her own work.
Artist Statement:
As an artist, I hope to capture the essence of beauty in our world- connecting the viewer to the higher realms of humanity, their love, their aspirations for dreaming their world into being- Aiming to see with the eyes of the heart- for rising above the contrasts of everyday life.
Let us walk in beauty...
Solo Exhibitions:
Ocober 10th, 2009 - Pasadena ARTWalk 2009
April 24, 2009 - "Armenia. Beauty of the Land" - Ararat Center, Los Angeles, CA
February 14, 2009 - "HeartWork" Art of Love, Love of Art - Chocolatebox Cafe Gallery, Flintridge, CA
Group Exhibitions:
2009 Allied Artists of Santa Monica Mountains & Seashore - Malibu Nature Preserve, Malibu, CA
2009 Malibu Arts Festival, Malibu Arts Association, Malibu, CA
2008 Art Knows no Borders, Los Angeles, CA
Art Benefit for Doctors Without Borders
2008 Holiday School Benefit, Westin Hotel, Pasadena, CA
2008 "Natural Beauty", CAC Gallery at the Historic Blinn House, Pasadena, CA.
2007 Commemoration of 2500 years of Armenian Alphabet, Ararat-Armenian Center, Glendale, CA
2006 Celebrating 100 Years of History: The Blinn House and Historic California Landmarks (11th Biannual)
2006 Small Works, Auberge Cevenoles Gallery, Cevennes, France
2005, '06, '07, '08 Foothill Family Services Benefit Auction, Los Angeles, CA
2004 Benefit Auction exhibition, Kidspace Museum, Pasadena, CA
2003, '04, '05 Benefit Auction Exhibition, Pacific Oaks Children's School, Pasadena, CA
2004 An evening in Tuscany, Chandler School Benefit Auction Exhibition, Occidental College, Los Angeles, CA
2003 Art exhibition, Two and a half cup Cafe, Pasadena, CA
1982 Objects of Desire: Functional Art, London College of Furniture Gallery, and London, England
1982 It's Showtime!, Whitechapel Art Gallery, East London, UK
24th Annual Student Show, London College of Furniture & Design, Whitechapel, London, UK.
1982 Senior Thesis: "The Evolution of Art and Photography", Media Arts Department, Documentary Feature, LCF, London, UK.
1982 Artist's Choice, LCF Galleries
Design Drawings Show, Society Of Industrial Artists and Designers, London, UK
1980 Gallery Artists; Recent Paintings by UK Armenian Artists Society, Kensington House Court, London, UK.
1979 Artist's Choice, "The Orator" Battle Abbey School, Sussex, England
Awards & Honors:
2009- Pasadena Jury Award 3rd place - Pasadena Icons- ARTWalk 2009
1982 London Diploma in Art & Design with Honors, London College of Furniture, London, UK.
1981 Artist Opportunity Grant, Gulbenkian Foundation Award for young Artists, London, UK.
1979-80 City of London Arts council Grant - London, UK, Wadsworth College.
1978 Juried competition for young Artist of the year, London, UK, Second Place "The Orator"
Affiliations:
2006 California Art Club, OPA
2008 Malibu Artists Association, Allied Artists of Santa Monica Mountains & Seashore, American Nature Photography Institute.
2009 Pasadena Society of Artists
1982 Royal Society of Industrial Designers, UK
Collections:
Private collections in Pasadena, Malibu, CA, USA & London, UK.
Education:
2009 Arthur Egeli, Landscape painting workshop, Tuscany, Italy
2008 Barry John Raybould Master Class, Venice, Italy
2007, '08, '09 Armen Atayan Master Class, Yerevan, Armenia
2006, '09 Arthur Egeli, Landscape Painting workshop, Florence, Italy
Ongoing apprenticeship
2004, '05 Realist & Dream Workshop & Symposium, Cevennes, France
1989 Storyboarding for film, Entertainment Design, Illustration, Art Center College of Design, Pasadena, CA
1982 London Diploma in Art & Design with Honors, Metropolitan University, London, England
1982 B.F.A., Interior Architecture and Design, University of London (Metropolitan University) College of Furniture & Design, London, England
1979 Foundation course in Fine Arts, Wadsworth College, London, UK.