PSA Today
Location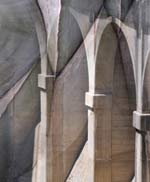 Pasadena Society of Artists is an organization of professional artists from Pasadena and nearby communities that has continuously exhibited its members' artwork for 90 years. Since its inception in 1925, it has evolved into a varied and vital artistic force that nourishes artistic growth in the contemporary art scene.
Artwork: Detail from "Arches" by William T. Saul.


Exhibitions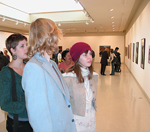 The Society is pleased to host two to three large society-wide exhibitions each year for its members, one of which is the Annual Juried Exhibition - held continuously for the past 90 years. In addition, PSA hosts three themed or media specific exhibitions and two Distinguished Members exhibitions that are designed to honor our long-time members. New Members who joined during the previous year's are showcased with a PSA-juried exhibition. Our Annual Juried Exhibition is independently juried by a juror of some renown in the local arts community.
Photo: PSA 83rd Annual Exhibition at the Brand Library & Art Center.


Events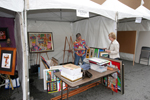 PSA maintains an exciting schedule of events each year including:
Monthly Board and member meetings held at the the historic Blinn House (Women's City Club of Pasadena)
Monthly presentations of art/technique demonstrations and workshops; technical and art business presentation; and other topics of interest to our artist members
Bi-annual peer-to-peer support sessions
Studio and museum tours
Community arts outreach
Partnering with other community groups
Photo: PSA member booth at Pasadena Playhouse District ARTwalk.
Our Illustrious Past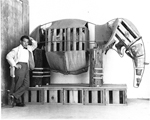 PSA has many well known members whose work continues to bring top dollar at auctions today: Louis Sharp, Burt Proctor, John Stacey, Hans Puthuff, Benjamin Brown, Marion Wachtel to name a few. The PSA Newsletter features interviews with some of our long-time members, and there is more interesting information to read in the History section on this site. Shown at left is Jirayr Zorthian with his assemblage/sculpture "Zorlefante" created in 1959. Mr. Zorthian was born in Turkish Armenia in 1911 and graduated with honors from Yale School of Fine Art in the 1920s.